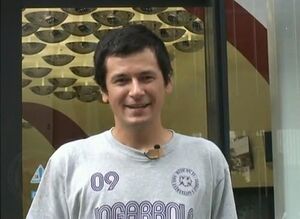 George Williams (Born on October 20, 1970 in Higashikurume, Tokyo) is a TV and radio host in Japan. On television, he is known for hosting and narrating many programs on NHK, including being one of the co-host of Your Japanese Kitchen on NHK World.
Early Life
Edit
Born to a British father and Japanese mother in Tokyo. He was raised in Japan until he was 5 and then his family moved to England. When he was 12, his family moved back to Japan and has remained since. He graduated from the Christian Acadamy in Japan, one year ahead of Tokyo-based musician, Bryan Burton Lewis.
Radio Career
Edit
From 1990-1992, he worked at Yokohama FM, serving as the resident DJ for the shows, "Energy Port" and "The Night Life" . In 1993, he worked at BayFM on a radio show called "3D Curious Radio" with Mike Rogers.
From 1996-2000, he worked at InterFM, working on "Toshiba Sunday J-Pop Countdown" (1996-1998) with Mitsuoka Dion and  "channel G", a punk rock program from 1997 to 2000.
Currently, he can be heard on TokyoFM's "DoCoMo Love Family" and "JA ZEN-NOH COUNTDOWN JAPAN", as well as "WTF!? What the Friday!?" and "Ready Steady George" on InterFM.
Television Career
Edit
In 1998, he started off as a VJ for MTV Japan, which later changed its name to Vibe. In 2001, he moved to viewsic Music On! TV. In 2002, he began to host GGTV (George's Government TV).
On NHK, he has hosted and/or narrated many shows, such as Digital Stadium (Digista), Start With 100 Words - Eikaiwa and Hot Asia. Currently, he can be see on Your Japanese Kitchen on NHK World, as well as the Moo Moo Family on NHK. He is also narrating Digista Teens. Recently, he hosted Harumi's Family Cooking along with his daughter on NHK World.
He also has appeared in many commercials for companies such as Fiat, Smirnoff Vodka, Lotte Ice Cream, Coca-Cola, Ajinomoto and Suzuka Circuit.
Personal Life
Edit
In 2000, he married Tina Kawamura (nee Martina Jackson), a bi-lignual former child star and fellow TV personality/model from America. They have 3 kids (daughter Vivianne and sons Alex and Christopher) and 2 dogs.
His hobbies include bike riding, music, books and walking his dogs.
External Links
Edit
Tokyo FM "Docomo Love Family" Blog (Japanese)