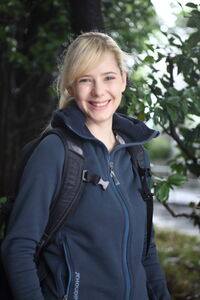 Janni Olsson is a Swedish model who has appeared on several of NHK World's documentary programs.
Biography
Edit
Janni Olsson began first visited Japan on a holiday trip with her older brother in 2006 and began spending more and more of her time there. She now livs in Japan full time and regularly books television work on NHK and NHK World. So far she has been a guest host/"traveler" on Trails to Tsukiji (9 episodes, 2015), Journeys in Japan (2016), J-Trip Plan (2018) and Tokyo Eye 2020 (2018). She was also a regular character on NHK's children's English program Ei Ei Go! (エイエイGO!) and has appeared on other (Japanese language) NHK programs.
Prior to moving to Japan Janni worked for ten years as a suit actor at one of the largest European amusement parks.
Janni plays the Violin, practices Kung Fu, and engages in a number of outdoor hobbies.
External Links
Edit